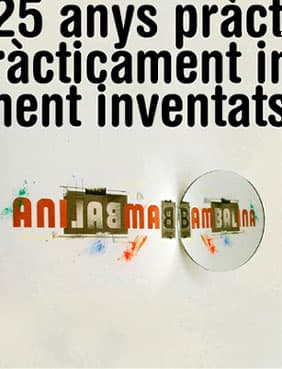 To be or not to be…" Here I have the great find
To portray oneself, he said, in the best way posible: "We are and we are not…"so, with a perfect and paradoxical game of doubles that, talking of puppets, of Bambalina and of these texts, we cannot nor will we ignore it. And I say this because what most remains in my head after reading these pages are the following words that are included in the second text: "Fortunately for me I have discovered the pleasure and riches of pure contradiction. I love and hate puppets because they are important to me and give sense to my life". And they have remained there – and excuse my nerve – because these words appear to point directly to the heart of Bambalina, as surely from a state of contradiction, or if you wish, debate, conflict, non resignation or dissatisfaction, it is from where the creativity can arise and this constant necessity to research, to transform, to rethink oneself.
Without this condition described by Jaume Policarpo, which I imagine is shared and assumed by his brother Josep, the company would not have toured various territories, often risky, and even not always one hundred per cent conquered. Perhaps Bambalina will continue being and doing more or less what it was some twenty or ten years back, when it was presenting well-made works and it had not enlisted for various adventures with puppets and actors; with children and adults and all together; with directors, authors, musicians and dancers; with creators, with diverse audiences and languages, interwoven, mixed together, turned upside down.
Without this contradiction and, what is more important, without the assumption of the contradiction – if described here maybe by way of striptease, a little bit shameless, as corresponds to the artist's ego – Bambalina has been able to travel from Albaida throughout the whole planet (or nearly) and would not even have been able to continue reinventing itself for 25 years, in a reiterated exercise of transvestism that has led it to finally be known as simply Bambalina. Which, I am absolutely convinced, could not have been any different, as they have been known – like a great lesson – how to surround themselves with many and inspiring fellow travellers; sometimes as one-offs and, at other times, turning into permanent travelling companions.
The voyage, the long road, the journey would not have been easy, as he explains perfectly and with conciliatory humour in the first text; how it has not and is not what many people who desire and intend to live and grow as an artist. Nobody has said that things have to be easy. What they can surely be described as are mobilising, unknown, encouraging, ambiguous or, at least, two-faced; above all they have to be intense and enriching. And these are the characteristics – as they have transmitted to me – that I see in these documents. And that is why Jaume's words make me understand the company's history, its shows, its energy and the will to undertake new challenges, to not stop, to continue.
Ramon X. Rosselló